About this Playlist
So far I've been lucky enough to receive submissions and promos from some of my favourite artists and big names in the dance scene and just as many upcoming, less established artists and labels.
As a thank you to both here's a short promotional DJ mix, highlighting just a small selection of my favourite submissions, listen on Mixcloud below.
So anyway first up on the mix is Les Hiboux (the owls in French) a duo electronic composers, producers, and DJs from Paris. Their addiction to the 70s disco vibes made them naturally dig into the gems of nu-disco and funk edits to get their audiences to dance. Their first production – released within a remix contest, curated by the label of Yuksek "Partyfine".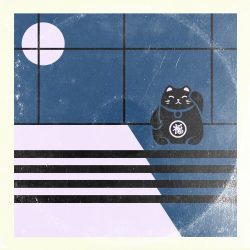 Foolin takes us onto a soulful downtempo house sound, welcome to the warm, fuzzy & soulful World of Soulfuledge producer of soulful music as heard on labels like Quantize, King Street, Madhouse & his own Nyte Music & Soulfuledge Recordings.
One of my favourite submissions from the last 12 month is from Australian producer, singer and songwriter Harry Nathan, with a saucy late-night groover titled 'Harriet Tubman?', featuring Harry's across the hall neighbour, Hollywood actor Ryan Lee (known for his roles in Goosebumps, Super 8, This is 40) Harry explains below there's a goofy and unexpected story around the making of 'Harriet Tubman?' "Ryan walks in to my studio one day and starts talking into the mic, not realising I was recording. The first part of this recording ended up in the outro of 'Fool For Your Love', from my first EP. It landed perfectly in that spot. "You" continued talking, as if hosting a fictional radio show, when an imaginary Harriet Tubman decided to join us. I genuinely had no idea who Harriet Tubman was, asking 'Who's Harry Tubman?' – to which Ryan replied 'Underground Railroad Queen'. My close childhood friend Tass Diakos was in L.A visiting from Sydney, and suggested we turn it into a house vibe. An hour later we were all in our pyjamas sitting on Ryan's living room floor, building the song on my laptop. Then we finished the production in my studio with my boy Preston (Walker). It fell together so quickly and easily."
Next up, Harlem Groove is a collaboration between Alastair Lane and Lee Wilson, the whole EP has Funk & Chicago House influences with a Jazzy atmosphere. Alastair Lane is a French DJ & Record Producer who started composing at a young age, drawing his inspiration from producers such as Detroit Swindle, Kerri Chandler and Joey Negro. He is signed to Nervous Records & Amplified Records, and resides in Paris, France, where he has already played in many of the French capital's biggest clubs.
On to a quality bit of retro action submitted to me back in September last year by Toucan sounds, a new record label out of Brooklyn. "M.P.B.," is a recreation of Frankie Knuckles' classic 'Paradise Ballroom Mix' of Womack & Womack's single, "Missin' Persons Bureau." The original was released in 1989, and was only available on 12″ vinyl. Those limited copies were going for up to $200 on resale until it was recently re-issued by Melodies International. The track has all the samples re-recorded from scratch by the label's in-house production team, and Pink Flamingo Rhythm Revue. Also spiced it up a bit – speeding it up and making it a bit fatter. Perfect for peak time on the dancefloor.
Since their debut single 'When U Go' on Classic in 2017, Girls of the Internet have been on a unstoppable trajectory, constantly building momentum with their own brand of future facing house & soul music. Drawing inspiration from the past 40 years of dance music, Girls' music joins the dots between disco, house, techno, bass, ghetto and dub – creating music that glances back into dance music's history, whilst keeping it's eyes firmly on the future. The second single from the Girls of the Internet album, deep and spiritual orchestral house groove.
Greg Kozo is one of the best French Touch producers of the 2000's and releases the digital reissue of his house music tracks, including a deep and soulfull remix of Larry Heard aka Mr Fingers, one of the founders of the House music, for the title "You Could Be The One" Published for the first time in digital, part of the mid-2000's Parisian soundtrack, contributing with each EP's to the particular relationship between Paris and the sensual house & soul of Chicago.
Finishing on another great sub from Toucan sounds, the debut single of Musclecars, a DJ / Producer duo consisting of two native New Yorkers, Brandon Weems and Craig Handfield. As musicians, they equally share an admiration for the art form. Their desire to blend genres and express their appreciation for music is focused around their community- the end goal is to bring people together. Through a regular stream of high quality mixes, they have begun to turn heads in underground circles.
In 2018 they launched 'Coloring Lessons', a party that was aimed to add value to their city's nightlife culture. While the party and sound is not genre specific, it is heavily focused around house, disco, jazz, and soul, embracing the musical elements of their black and brown ancestors. The monthly party's intention is to bring New York City's dance music scene back to what it was during the golden era of NY nightlife. They aim to spread the music that has been influential to them, and share it with a younger generation of their peers.