About this Playlist
Shake a Hoof is a slang term, it means to dance and the Hoof loves to rock a dancefloor, he needs feeding tasty new music on a weekly basis, so is always on the hunt for funky fresh cuts.
It's all the way to Brazil for this month's treat from Bruce Leroys and the legendary Jazz Funk band Azymuth. Diogo of BL explains how the 'Melo da Cuíca' – Aureum Remix' came together.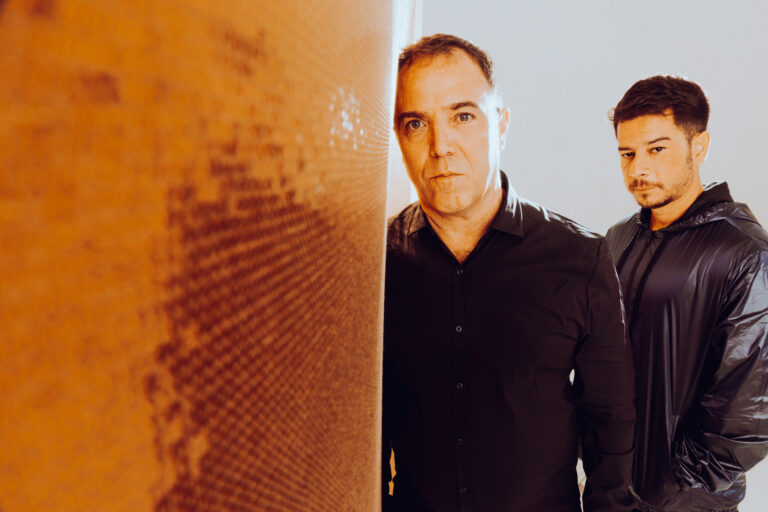 "I believe that our story never begins far from our hometown. That said, our fellow countryman Alex Malheiros, bassist and founding member of the iconic group Azymuth, has always been an influence. We had a plan, initially utopian, to have him join us in some way. In 2017, our utopia came true. Under the pretext of re-recording one of the most important tracks in Azymuth's history, "Melo da Cuíca" from 1975, and with the help of the beloved Carlos Machado and the owner of the also iconic Castelo studio, Fabio Motta, we had the honor of producing not only our countryman, but the entire Azymuth group!
In "Melo da Cuíca" (Aureum Remix), the percussion elements, drum turns, cuícas, whistles, layers of double bass, Hammond, Rhodes and synthesizers are all original recordings produced by us and performed by the official members of Azymuth: Alex Malheiros (double bass), Ivan Conti "Mamão" (whistles, drums, percussion) and Kiko Continentino (Rhodes, Hammond and Synths) in 2017 at Castelo Studio, the same studio where the last Azymuth albums were recorded.
Our remix was approved by the founding members in early 2023 and is the collaboration that consolidates our current artistic phase, where we seek to fuse Brazilian jazz with a certain dance music, dance music that has a strong influence from Azymuth itself. We hope this track warms the hearts of all fans friends and family of our dear "Mamão" and that it lives up to the expectations created by the Azymuth band."
"So, let's start at the beginning – when did you first discover your love for music? And what was the moment that made you realize you wanted to pursue it as a career?"
"We both discovered ourselves in music before reaching adulthood."
Marcelo: "I am the second DJ in my family, so I received a great amount of information. I learned the technique and, in a way, absorbed a culture that came before my age would allow. I was 14 at that point. I started going out at night and getting to know the market better in the late 80s and early 90s. I listened to Run DMC, M/A/R/R/S, New Order, S'Express, Technotronic, Snap, Soul II Soul, Lil' Louis, Crystal Waters, Jay Dee, Josh Wink and a little later, I was impacted by Acid Jazz and Trip Hop.
From Acid Jazz, I developed curiosity for jazz, which became a passion. In "normal" circles, I would always listen to surf rock and classic rock with my school friends, while bossa nova and MPB (Brazilian popular music) were the soundtracks in my house with my parents. In 1991, when my cousin couldn't go to the club where he was a resident, I played and was hired. After that, I never stopped."
Diogo: "Since I can remember, i have been a creative person. At 5 years old, I scribbled on all the walls at home. At 10 years old, I won an award for best graphic art in an exhibition reserved only for experienced adults. At 12 years old, I started my career as a DJ for children's parties. At 13 years old, I began making remixes to be played on local radio stations in Rio de Janeiro. At 16 years old, my music made it onto a CD by a major label, which was a success throughout the country. At 17 years old, I played in major clubs in the city, and on Sundays, I performed on local radio. At 23 years old, I opened a DJ agency, bringing international artists to play in Brazil. And at 29 years old, we finally started Bruce Leroys."
"Your latest track Melô da Cuica has such a unique sound. Can you share with us the inspiration behind it and how you developed this sonic identity?"
"With Melô da Cuica, we absorbed the sound of Azymuth in a recording completely focused on this remake of the track 'Melô da Cuica,' captured in the classic Castelo studio where all their (Azymuth) latest albums were recorded. Therefore, we didn't work with samples; everything was captured in these takes made in 2017, with the perfect sound of all the trio's latest works.
We brought the recordings to our studios and from there implemented the code and arrangements that we are developing for the 'AUREUM' label on the remix.
The control of the creative process extends to the technical part as well; we handle the mixing and mastering of all our releases in our studios."
"Every musician has that one classic track that they hold dear to their heart. Can you share yours?
"We're always on the hunt for new music here. Is there an up-and-coming artist or band that you've recently discovered and think deserves more attention?"
"Nu-Azeite, Live Motel, Processman, Tour Maubourg, Crackazat, Felipe Gordon… The last 3 are not really new, but they should have much more attention."
"Looking ahead to the rest of the year, what are your plans? Any exciting releases or shows that you can tease for us?"
"Yes, definitely! We will have releases with iconic artists from Brazil and around the world in the coming months. In July, we have a collaboration with Bernardo Campos and a remix of the same track by the South American star Felipe Gordon.
In August, we have another collaboration, this time with none other than Fausto Fawcett, a contemporary philosopher, poet, and composer, best known in the pop world for the international hit 'Katia Flavia,' featured in the soundtracks of the films 'Elite Squad' and 'Bitter Moon' (Roman Polanski). It will be a completely new and produced track by us, both the original version and an 'Aureum Remix,' with the participation of the multifaceted artist Vivi Seixas, daughter of one of Brazil's greatest rockers, Raul Seixas.
We will also have another equally iconic remix that we'll reveal more about later. We have releases planned for every month of this year…"
"Playlists have become such an important part of music discovery in recent years. What do you think the future holds for this format? Are there any playlists out there that you personally listen to?"
"We believe that soon AI will be able to create playlists very well… We have our own playlist for our radio program on Spotify called Aureum Mood FM."
"Connecting with fans is crucial for any artist. How do you prefer to interact with your audience? And have you found that social media has changed the way you approach this?"
"Social media has drastically changed the way artists and the audience interact. The truth of each artist is exposed, and access to the artist is amplified for fans from anywhere in the world. We use Instagram a lot and are expanding our activities to other media platforms"
"With so many different ways to consume music nowadays, it can be hard to know what format to focus on. How do you feel about streaming versus downloads versus physical copies?"
"We will release vinyl for our upcoming release. For this release with Azymuth, we have prepared a Dolby Atmos media and worked with all streaming platforms. We believe that each media is important and has its own characteristics to be explored in order to reach its audience. We don't see it as a competition between these media; they work in a complementary way. The important thing, in fact, is the music."
"What's the best way for fans to support you right now? If they only had a few minutes, what could they do to help spread the word about your music?"
"Share our music with as many people as you can, in fact, do this for all the artists you love. We are DJs, we do this for a living."
"Do you believe music matters? Why?"
"Despite many people today believing that music is secondary, in the Aureum label and our studios, we live for music. Without a doubt, it is the most important thing for us. Good music has a life of its own. While marketing is welcome, good music finds its place. That's why we're here talking about Azymuth, us (Bruce Leroys), Melô da Cuica, and Aureum. Serious and committed publications always have qualified and experienced professionals, and there will always be space for labels like ours. In our second release, we have already been featured in various relevant portals and editorials, and we are extremely thankful for that."
"What's your opinion on the impact of music festivals like Coachella and Glastonbury on the industry, and what role do they play in shaping music culture?"
In Brazil, we have Rock in Rio, which was created during the heyday of the "Rock Brasil" scene in the 80s. A festival is usually a moment of affirmation for an artistic movement and serves as a gateway to a wide audience for new artists and musical trends. We have participated in two editions of Rock in Rio, and it means a lot to us.
Coachella and Glastonbury are part of the dreams of almost every artist. In a way, they confirm that the work has reached a remarkable level of recognition among a significant portion of the young audience. We believe that dreams without real goals and clearly defined objectives do not come true. That's why we continue to invest our time in the most creative way possible and organize ourselves in a 360-degree manner, with the hope of one day qualifying for these and other wonderful festivals that we have all over the world.
This year, DJs Vintage Culture and Mochakk played our track at Coachella, and several artists have already played our tracks at various festivals. This is a source of great pride for any artist, and we are grateful to everyone who supports us, regardless of the size of the club, party, or festival."
"How do you define success as an artist? Is it based on commercial success, critical acclaim, or something else?"
"Some people seek fame, and there's nothing wrong with that. Each person does what they want with their life. Success for us is being able to express our artistic truth. The bar in this field is entirely personal.
We are in search of our own language, a sonic signature, and the utopian perfection in various dimensions of our artistic/musical work. It's about expanding our artistic vision in a unique way and forming a fan base that understands and supports us.
And most importantly, we have to be enjoying ourselves in the process. That's the recipe for success for us."
"Tell us about your writing and recording process, what instruments, software or hardware do you use?"
"In working with Azymuth, the challenge was to be as close as possible to their original sound. The track was originally created in 1975, and we wanted a reinterpretation of an unreleased original track.
We used parts from that recording for the Aureum version. In the Castelo Studio, we used Fender Rhodes, Hammond B3 with Leslie, a spectacular range of vintage microphones and preamps, all captured in Pro Tools. In our studios, we use Ableton Live 10/11, Prism converter, Dynaudio monitoring, and we have synths like Moog, Virus, DX7, E-Mu sampler, Pioneer Sampler, Akai S3000, and Ensoniq AR-10, as well as Universal Audio preamps and compressor. In the box, we use plugins from UAD, Acustica Audio, Plugin Alliance, among many others…"
"What do you think sets your music apart from that of other artists in your genre?"
"We like to think that our tracks sound punchy and clear from an engineering perspective, and musically, we often bring Brazilian vocals and music acent into the game."
"Are you optimistic about the future? Why?"
"We are always optimistic. There's no point in celebrating humanity's failure, LOL. Jokes aside, we create our music to unite people on the dance floor and to pay homage to the culture we are a part of."