The 1975 are an English Indie Rock/Pop Rock band that has been around since 2002. The group consists of 4 members with lead vocalist and guitarist: Matty Healy, lead guitarist : Adam Hann, bassist: Ross Macdonald, and drummer : George Daniel. They released their first self titled debut album in 2013 and the rest is history.
Andrew writes:
So we were talking music and I was reflecting on how much I appreciated Jenna's enthusiasm for The 1975 – I'd been aware of the band and their great live performances – but hadn't really listened to the music. In the conversation we came up with the idea of doing a playlist based around Jenna sharing a 1975 track – me then responding with a track that it reminds me of – then Jenna responding with a 1975 track from that – and on we go to 22. Here's how it played out:
Chocolate – The 1975
Jenna writes:
The second the idea was brought up to make a playlist around The 1975, I immediately knew what song was going to be first and that was going to be "Chocolate". This is a great first song for someone who hasn't really listened to the band before. It comes from their debut album that's celebrating its 10th anniversary this year and It's the first song I ever heard by them. To get to know The 1975, I feel like you really have to dig deep in their discography, back to their beginning of their signature sound, and that's essentially what you get here. "Chocolate" has always been my go-to song so it only made sense to start with it here. I feel like I'm back in 2013 showing this song off to all my friends and anyone else who would listen. To this day it's still one of my favorite songs by the group and it probably has to be my most played song on Spotify which says a lot.
Ultraviolet – Meteora
When we'd completed the list and were discussing how to publish, Jenna asked me if I had a favorite track. I know my answer to this question will change over time – yet, for now – for my first introduction to The 1975 – I fucking love this track!
The groove – the tightness of the band – the composition – the almost arrogant but ultimately insouciant charm of Matt Healy's delivery – I'm a fan.
If you like The 1975 you'll probably love Meteora – a Mexican band that took U2, Australian 90's rock and a dash of The 1975 – stuck them in a blender (conspicuously absent of cheap sugary ersatz lime juice) and produced something pretty cool. Music's everywhere Man…
The Sound – The 1975
At this point I was super impressed that Andrew could even find a song to follow "Chocolate". Meteora''s high energy and purposeful use of synths were something I picked up on right away. Both of these songs had an explosive chorus and strong vocals all the way through so I kept heading in that direction. Wanting to match the energy and keep the upbeat tempo of "Ultraviolet" (and include more synths) ultimately led me to return with "The Sound", a track coming from their second album in 2016.
Bullet for Your Sweetheart – Make Out Monday
It's that intro – synth driven – strong vocal entry – I'm thrown back to my teenage years – the 80's – I'm all weird and shit – total fish out of water – not understanding the music – the look – the zeitgeist – there's a "Laissez faire / Laissez les bons temps rouler" feel to the entire decade – and while I can't quite reconcile the ethics and I don't get the sonics – I still love the energy.
So I'm blind – thinking of vibe and energy – and energy wins. Dipping into "Music to Keep Pop Punk Alive" and pulling out Make Out Monday 'cos they're awesome and more people should hear them. (Thanks Blake)
Love It If We Made It – The 1975
My first thoughts after listening to Make Out Monday were something along the lines of loving the grunge rock vibe happening that keeps driving the energy even higher at this point. I Don't know how I got here, but it was then that I knew whatever song was going to be next was going to also pack that same musical punch to its' listeners and somehow involve Matty screaming lyrics, which turned out to be "Love it if We Made it" before and after the chorus specifically.
My Sharona – The Knack
The 1975 understand the 80's – this is what I'm learning – they understand it in a way that I couldn't at the time. They know how to take the technology, the tropes and memes, make them cool and just – yeah – fucking cool. Did I mention I was a fan?
When it came to my response – well – I so remember this – I spent a day – an entire freakin' 24 hours – knowing that "My Sharona" was going to follow "Love It If We Made It" – but fuck me if I could remember the name of the song or the band. I had a fragment of an idea in my head – elusive and uncatchable – all I could do was continue to listen frustratingly at it. I still remember the moment when it materialized – fully formed and recognizable – the elation and sheer fucking joy – then running to the machine and cueing it up and finally – sitting back with a big ass grin on my face :-p
It's Not Living (If It's Not With You) – The 1975
"My Sharona" was a total throwback for me. I couldn't tell you the last time I listened to it, but once I hit play it all came back to me and I immediately knew all the lyrics. For me, It's one of those tracks that you can't help but sing along too and that's also what you get here with this 1975 track (even if you're hearing the song for the first time). This song follows me everywhere I go. The clever lyrics, the upbeat tempo despite the nature of the message, and well I could keep talking about this track forever but I'll save that for another time. The connection between these two definitely lies in their super catchy chorus that gets stuck on replay in your head over and over again. When you think about it, this can be kinda annoying to some, but I mean this in the best way possible here.
Heaven Is A Place On Earth – Belinda Carlisle
Oh God – at this point I'm in a Golf GTI – getting out of London – driving to the country for cricket matches and dinners round the kitchen table. But they're secondary 'cos it's really about the girl – the woman – the love – and it's brilliant. If the song was written 25 years ago – I'd have it on repeat.
I think it's the snare. And sure – that helps but it's really about the chorus hook:
It's not living if it's not with you
Ooh heaven is a place on earth
If you kinda squint your ears you could almost drop them on top of each other 😝
Looking For Somebody (To Love) – The 1975
I believe it was around this time when I realized with each new track we were getting more 80s sounding music and who would have thought Belinda Carlisle and The 1975 would go so well together. They both have those insanely catchy melodies that just follow you around and make you feel good while listening. Looking for Somebody (To Love) immediately crossed my mind as I think what did it for me was the production, arrangement, and the instruments in these two songs all complemented each other really well. I just can't help but sing along when I hear these tracks and I still haven't been able to get "Heaven Is A Place On Earth" out of my head since.
Get Out – Frightened Rabbit
The synth intro from Looking For Somebody (To Love) immediately had an association going in my brain and then the track kicked in and suddenly it's Beverly Hills Cop and Glen Frey delivering The Heat Is On – but as with every 1975 track I've heard on the list so far – it's not so simple. It's as if they reach back in the past and take just the good bits, bring them forward a few decades, polish them up and make them better.
When I tried to line up the Glen Frey track it didn't work for my ears and I just kept going back to the underlying synth juggernaut – and while the overall groove changed – mellowed a little – I kinda dug how the eighties synth feel carried the transition.
Oh Caroline – The 1975
A few different songs came into my head after listening to "Get Out", to which I might add that I have been playing on a heavy rotation since listening to it for the first time – (Thanks Andrew). The first song that came to my head was also going to be a song from their newest album, called "About You". This pick would have slowed down the tempo but I felt like there was another obvious choice here. I just couldn't get the mellow tone and acoustics out of my head.
Over My Shoulder – Mike + The Mechanics
I love how Jenna took the groove shift and ran with it – that slightly mellower feel – it's like we're taking a breather in the middle of the list – always a good thing. And yet, even now – listening back to the track I could be back in the 80's but like – in the good bit of the 80's – the part where you're on someone's yacht and there's bongos and bongs, all being handed round in time with the waves.
And I'm thinking – OK – we get the 80's association 'cos I'm immediately thinking of Mike + The Mechanics The Living Years – but here's the thing – I never really liked the song. I mean it was great – a brilliant lyric and incredibly well delivered but – just – not for me – but it had me thinking of over My Shoulder, which thankfully dragged me forward into the 90's 😝 Was super intrigued to see where Jenna would take this…
If You're Too Shy (Let Me Know) – The 1975
I feel like I listened to the previous track numerous times before I was able to narrow it down to a singular 1975 song. The first thing that stood out to me were those vocal tones and the throwback to previous decade sounding instruments and arrangement. I enjoyed the upbeat tempo and that rather punchy chorus that hits hard out of nowhere. Staying on a similar theme, it's the guitar and drum melody that did it for me to return with this song.I feel like it may not seem like this song correlates at first listen but after the minute long intro when we reach the chorus it makes more sense. I wanted to keep the same high energy we had been doing all along, while staying true to the 1975's signature style. This happens to be one of my favorite songs of theirs 🙂 I don't think I need to explain myself on this one really, have a listen and tell me this next song sounds like it's straight out of the 80s.
I Can't Wait – Stevie Nicks
Damn that's an intro – and then the heavily chorused guitar – straight out of a psychedelic rock concert – the heavy effects vocals and suddenly – you're not at a sweaty gig in Ladbroke Grove – you're standing by the pool at Skybar – Old Fashioned in hand – LA lights in the background – considering the veracity of the chorus. This too is one of my favorite 1975 tracks I've heard so far.
But now I'm driving my dad's new car – dropping my girlfriend off at the midnight bus that will take her back to college a few hundred miles away – Rock a Little in the tape deck – driving laps in the parking lot 'cos it feels so much better to move than to sit still and wait.
Love Me – The 1975
The 1975 has a unique sound that as we have established could also belong in the 80s yet refreshingly feels more modern at the same time. This time I went all the way back again to their 2016 studio album with a song that is close to my heart. I feel like I'm back in high school listening to it for the first time again. It's unique in so many ways, as they created this music that no one else was doing it at the time. This track is full of pleasantly sounding chaos as I like to say, with its particular use of different instruments hitting you from many different angles which play so well off Stevie Nicks.
Big Time – Peter Gabriel
Kinda shocked that I didn't go with an INXS track here – but as always with the 1975 – the more you listen – the more you hear. And while sure – that guitar riff could lead to almost anything off Kick – the more time I spent with the track the more it became apparent what it had to be.
I'm obvs listening as I write this and looking for the reason why it was so clear that Peter Gabriel had to come next – and – I can't find it except that – maybe – it's the attitude that both tracks share – and don't ask me to explain that either 😝
Happiness – The 1975
Sometimes the hardest thing when making another playlist with another person is listening to the song they choose and not being able to think of a song to add to the playlist, but with this list I had the opposite problem. There have been quite a few times by now where I listen to Andrew's track and I have a hard time deciding between 1 or 2 tracks that could work here. After an internal battle this time I was connecting with the beat and the overall groove where I heard similarities and there's also a super nice saxophone break in here too.
The Honeythief – Hipsway
Come on – who doesn't like a saxophone break?! I suspect if you looked at the list of "Epic" songs (and no, I don't know who "curates" that list) – they would have a significantly higher percentage of saxophone breaks than mere mortal tracks. I like Happiness – on many levels – it's that feel good track that actually makes me feel good – unlike some "feel good" tracks that attempt to stuff it down your throat – and that sax break – I'm grinning.
And now I get to pull one of those obscure tracks that you'd only know of if you were alive at the time – one that didn't transcend the generations for whatever reason but – on going back – still sounds fucking great. For me it's about the doubled vocals – the big fat synths that could have had a real brass accompaniment in the chorus – imagine what a sax break could have done to this track?!
She's American – The 1975
I don't really have a better way to explain to myself and others how this song was picked for this playlist after hearing "The Honeythief", but the only thing I can say is that it basically picked itself. I haven't heard this song in years probably and I must have repressed it from my mind until this moment. Listening to it again, I felt like I was discovering it for the first time. I constantly have been playing it over and over these last few days thinking to myself… wow.. this band is really good…I feel so lucky I am able to even listen to them.
Tell Her This – Del Amitri
I love She's American – it's the kind of track where you can imagine the band working it out – the space for the riff – the grins on everybody's faces when it works – and the lyric – which if you're British and know Americans – well, IYKYK – what is of course hysterical is that I married an American woman almost 22 years ago and she's still slightly nervous about my bottom teeth.
And I'm listening to that lovely fade out and thinking – fuck it – mood change. I'm making a playlist with an American woman who loves an English band who wrote a song about how cross cultural relationships can be pretty weird – time to bring in a Scottish band. This is what love sounds like to me – pretty sure it transcends cultures
When We Are Together – The 1975
Making this playlist has only increased my appreciation for this band and we've only reached the tip of The 1975 Iceberg (if that makes any sense). This shift in sound from Del Amitri just shows how the group doesn't produce only one type of sound. While it's true you often get 80s inspired synths and sounds, you can also get the most emotional acoustic ballads you've ever heard as well. I was reminded of a different type of sound from The 1975. Away from the synths and electric guitar towards an indie-folk acoustic vibe with Matty's Isolated vocals that hit me like a truck. It's almost like nothing else matters at the moment. "When We Are Together" is also the last track on their new album and in my opinion kind of a perfect song to end with here. What we have essentially is a good closer to circle back on an amazing playlist that unfolded in front of us.
The World I Know – Collective Soul
I already know I'm going to love this track from the transition and how Matt Healy's vocal is presented in the mix – and the harmonies – the harmonies are always good. From the effervescent froth of She's American – When We Are Together brings the truth. It's a beautiful lyric – makes me want to hang out with them and share war stories of love.
I adore this Collective Soul track – so much so I've added it to a load of collaborative playlists in the last 6 months – it seems to sum up my experience of The 1975 so far. The track is beautifully made – the melody, the chorus, the strings – as a standalone piece of music (that string coda in the last 30 seconds!) it's fucking good. But what makes it great is the lyric. Like so many 1975 tracks on this list – nothing's obvious – there's always another layer to look at – and – like The 1975 – the message is ultimately hopeful. Sure this track is about suicide – about as dark a subject you can get in a pop song – but the end result is that he doesn't jump – he sees the world – recognizes it for what he is – hope still lingers on and the triumphant uplifting coda seems to magnify the message.
I'm so stoked that Jenna and I got to do this. I am a fan of The 1975 – and that wouldn't have happened without Jenna's love for the band. I'm thinking that this kind of a playlist is such a great way to get to know a band – and as always with a collab list – get to introduce songs and bands that the other person may never have heard of, but that will make sense to them.
Playlist image by Krista Mangulsone on Unsplash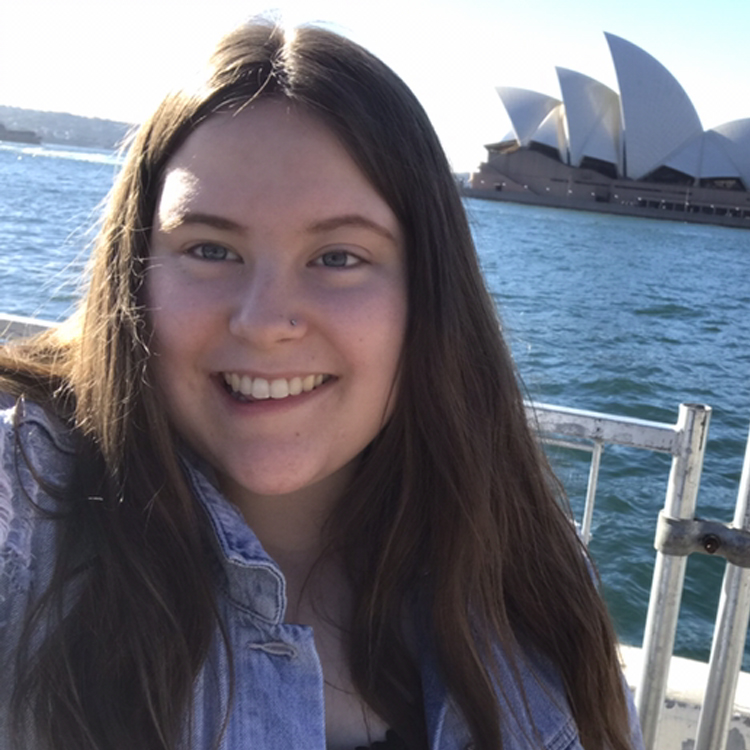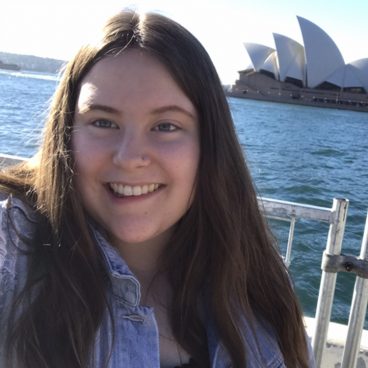 My name is Jenna Barton. I currently live in a small town in Illinois. Although I live in small town I have always been a big city girl at heart. I live near the great city of Chicago, where I try to visit as often as I can. I enjoy seeing new places and being around people. I'm not sure what my future holds, but I do know that music will be apart of it.
Music has always been a part of my life for as long as I can remember. You can find me listening to music in between classes and during nature walks. Ive had a passion for music at a young age when I started my own musical discovery. My journey into music led me into the boyband area for a while, but now its very diverse and I am always looking for something new to listen to.
I wouldn't be able to pick a favourite artist or song right now because its constantly changing. Music has changed my life for the better and I want nothing more than to share that with you.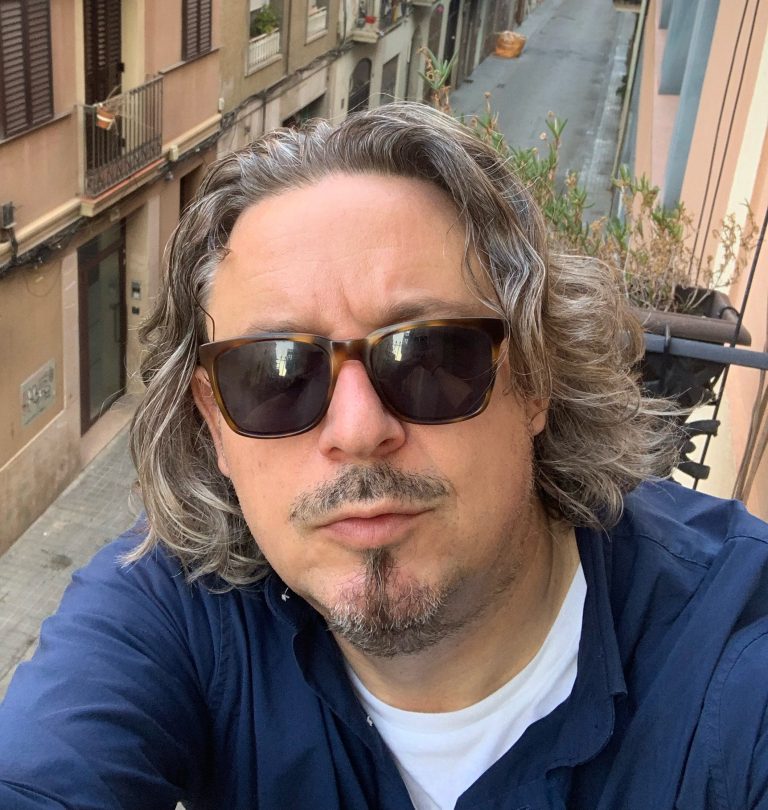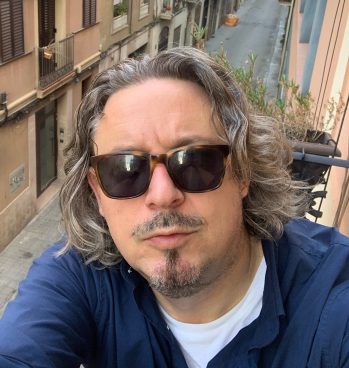 Mastodon