Desafinado – Stan Getz
I had been recently challenged with what seemed like a great opportunity to explore music with my friend Andrew. With no idea on where to start, I stumbled upon this track from the Stan Getz/Joao Gilberto (ft Antonio Carlos Jobim) Bossa Nova album, which I had been enjoying for some time, and thought: Why not start here? To me it seems like a very universal (and now timeless) example of great music. Fresh, smart, really enjoyable, a mix of many cultures. Even irreverent to some extent! Desafinado, ha!
Furta-Cor – Scalene
And so the journey begins – and what a great opener by Roberto – I'd just made a playlist with one of our Brazilian curators, Abdallah, and had been grooving on João Gilberto, add the iconic voice from The Girl from Ipanema and Stan Getz's melodic tenor sax and well – so many options in where to go next.
I knew I wanted to mix things up in this list – the original Desafinado came out in 1959 and I was eager to blend in some more modern tracks. Keeping the bossa nova heritage but bringing it forward to this century seemed like a good job for São Paulo band Scalene – add Xênia França's super smooth vocal and we've got a good foundation for wherever Roberto wants to take it next.
El Ruletero – Pérez Prado
Dámaso Pérez Prado "El Rey del mambo", a.k.a. "La foca" or "the seal". Because as Chavela Vargas once put it: "We mexicans are born wherever the f…… we want" (Though she saw the first light of sun in Costa Rica), cuban born, mexican great Pérez Prado, was able to translate in everyday México City life into music with pieces such as "Mambo del Politécnico"; "Mambo Universitario" and how can one miss it, evoking the City´s night life from the 50's onwards: "Mambo No. 8".
Mixing afro-cuban sounds, pioneering mambo rhythm, his work describes any given day of the life in México Cit: In this case the life of "El Ruletero", the cab driver. Although this particular version is adapted for a tour in Spain, and talks about roaming Barcelona, La Gran Via, in the original version he takes us for a ride through the most traditional burroughs in México City: Peralvillo, La Guerrero, Tacubaya, Tepito, and many more. Get on your feet and dance!!!
Mr. Pinstripe Suit – Big Bad Voodoo Daddy
Roberto keeps the Latin vibe but drags us all the way up the continent to Mexico City where the energy hits hard. I was immediately grinning while listening – I've spent some time in Mexico but never made it to the Capital – Roberto has promised to show me around when we make it there – I'm holding him to that!
If Roberto's bringing the horn section and the Mambo from Mexico, I'm gonna pull it a little further North to California, upping the energy and swapping Mambo for Swing. Big Bad Voodoo Daddy are one of those bands that don't sell a lot of records but man do they sell out shows – we saw them a few years back and the energy and positive vibes they manage to generate from the stage was awesome!
Hasta la Raíz – Natalia Lafourcade
Wow, so much energy in the previous tracks!!!! Maybe it's time to slow down a bit, time to listen to Natalia Lafourcade. With a soft and mellow voice and a very interesting rhythm evoking indigenous sounds, she fills us with feelings of true love, of belonging: "Yo te llevo dentro, hasta la raíz" (I dunno how to translate this), the kind of feelings we all aspire to experience and, more likely, the kind of feeling we long to inspire in our meaningful one. Enjoy!
Só Sei Dançar Com Você – Tulipa Ruiz
It's the opening guitar riff – gets me every time – the track could go in many directions and then Tulipa Ruiz's vocal comes in – again – we could be in the 60's or 70's but then the drums kick in and now we're full
You Take My Breath Away – Queen
So, is it about great voices Andrew, ha? How about this masterpiece from one of the GOATs in the oldest musical instrument that is the human voice? I came across this song by accident, I must admit. I was watching a Brian May interview, where he talked about this track, so I had to go and search it: Wow! What a powerhouse! Thank you Freddie.
nana triste – Natalia Lacunza
An astonishing track by Queen – after Roberto reminded me of it I moved it across to a few other lists – sad ones! Freddie Mercury was indeed a genius – so how do you follow that?
You get sadder – that's what I do!
I have a playlist called "Love is Ridiculous and it Hurts" – this is on there – such a beautiful presentation of how love can trick and deceive us – send us down a path we think is the right way only to turn the corner and find out that what we had been nurturing was actually a monster – a monster with weapons uniquely designed to pierce our armor and cut us to the core.
La Sandunga – Yo-Yo Ma
Wow! This playlist is taking a turn in the direction of deep feelings! La Sandunga can be both a song and traditional folk dance from Oaxaca. Its origins are uncertain, and scholars don't agree yet of where it comes exactly from, though it was born in the Istmo de Tehuantepec (Tehuantepec isthmus), it also has roots in the Arabian invaded spanish peninsula. It denotes grief, deep sadness and melancholy. It is a clash in cultures, and in this version, this is augmented by bringing together the powerful oaxacan voice of Lila Downs and the artistry of Yo-Yo Ma. Enjoy!
Desfado – Ana Moura
The Lila Downs track is so powerful – her story is amazing too – apparently she took two years out of her career to follow the Grateful Dead around in a VW van – not singing at all and making a living by making and selling jewelry! Seems she wrestled with her joint Mexican and USA heritage throughout her career and yet seemed to be able to turn it into magic – having Yo Yo Ma add strings to a classic Oaxacan groove is collaboration indeed!
After the power of the last performance I felt we needed to lighten things up a little – although when making a transition like this you can't be too abrupt. I'd been feeling all kinds of Fado from La Sanduga and thought I'd dig around in a couple of my favorite Fado performers and this delightfully upbeat track from Ana Moura seemed the perfect way to bring the mood back up!
Laugh Clown Laugh – The Ladybugs
What a change in rhythm Andrew! From deep, soulful tracks from great voices, we move onto more cheerful ones without losing any quality in the vocals. Great move Andrew and a great example of Fado from Ana Moura.
I had come across a track from Martina Da Silva and fell in love with her mellow and beautiful voice, so here is a track where she is joined with Vanessa Perea to form The Ladybugs. Let's get the mood up!
Coco Zoot Suit – Twanguero
I'd never heard of the Ladybugs but what a pair of vocals!! A fabulous homage to the classic duets of the 40's and 50's but updated with a fresh feel. The groove has us circling back to the beginning of the list – Pérez Prado and Big Bad Voodoo Daddy and I know where I want to go.
What I love about this track is that it's from 2015 by a Spanish guitar player and yet you could swear you're sitting in an underground drinking club in New York in the late 40's. Part of me wishes I was alive when this kind of music took over the world – brilliant!
19 Dias y 500 Noches – Joaquín Sabina
Continuing with the Spanish theme that Andrew has introduced to this playlist, let's move on directly to Spain. And if I may, let's get back to sorrow. Joaquín Sabina is a very well known singer-songwriter, poet and writer in the hispanic speaking world. His lyrics are loaded with deep feelings of love, heartbreak and life in general. His raspy voice, latin inspired sounds and profound lyrics are the perfect companion to a sad, emotional session of thoughts and dinks, why not? A whisky on the rocks, perhaps?
That is the case with 10 días y 500 noches, where Sabina tells us about his misfortunes with a love that did not end well: "Our thing lasted as long as 2 ice fish last in a whisky on the rocks". The album where it comes from, and named like this theme is very enjoyable from start to end. So, get the scotch out and enjoy! (Ice fish are optional).
PURO VENENO – Nathy Peluso
I am embarrassed by my poor Spanish comprehension (let alone expression!) – but Google translate is my friend – and while you don't really need to understand what's being said to know what's going on in this track – it is kinda reassuring to see that – no matter how badly Google butchers the translation – it's the same story of unrequited love. While my Scottish heritage would frown at me – I'm totally adding the ice fish if this was me.
Yet, even though the lyrical message is downbeat – there's an underlying groove to 19 Dias y 500 Noches that has me reaching for the salsa – and not the habanero type but more the old-school salsa that Nathy Peluso seems to effortlessly knock out of the park. "Latin music" – whatever the fuck that is – is taking over the world and even though it's more often wrapped in the hybridization of latin beats and classic hip hop grooves – it's always a treat when a current pop star introduces a new set of ears to where the groove came from!
Prototype – Outkast
Groovy Andrew! You got everyone dancing! A very nice way to spice things up a bit and get moving. I couldn't avoid but to remember one of those "Live Salsa" saloons in México City that take you back in time to another era where you were always guaranteed a great time, like the now sadly defunct (Thank you Sars-cov-2) Salón San Luis.
Following up with the romantic theme, and to slow down a bit and catch some breath, here comes a track from Outkast: Prototype. A very nice set of vocals and a beautiful message, quite a surprise to me coming from this hip-hop duo. Enjoy!
Easy 2 B Hard – tulengua
What a transition! I can almost see Roberto coming off the dance floor, kicking back in the booth, ordering a Tequila and recovering to this insanely smoooooth groove. And yes – not the kind of thing you'd expect to hear from Outkast but the pure musicality of the duo shines through – as does the humour at the end – Andre Benjamin is a genius!
But while we've sat back and caught our breath, I'm still feeling the Latin vibe and I've got plenty of energy to go with it – so I'm blending some USA / Mexico vibes and bringing it back to the border. Tulengua – the brain child of multi instrumentalist Alan Lilii – call themselves a bilingual hip hop supergroup and damn if that ain't true. Written in the middle of the Trump presidency the lyric doesn't shy away from addressing the harsh realities of life on the border yet it does so with such a cool underlying groove – one of my favorite tracks of the last few years.
Calaveritas – Ana Tijoux, Piña Arvizu
Hey Andrew: You really want to move us to a deep thinking state, Ha? Reflect on one's behavior, one's interactions with other humans. It's a tough world out there, but I think there's always light at the end of the tunnel. Be cautious and get the best of yourself and of anyone else.
Calaveritas, by Ana Tijoux, takes us to that latin groove where we play and romanticize with death: "todos llevamos dentro un muerto que acompaña" We all carry a corpse within ourselves. As Carlos Fuentes would write in his novel The Crystal Frontier, it's the eternal division from north and south, the way we see death. Death, love, heritage: "Salud mi vida, por nuestros muertos …… con las abuelas y abuelos" Cheers my love, for our dead ….. With our grandmas and grandpas. Beautiful vocals and harmonies with a latin vibe.
Conciencia – Pedrito Martinez
Calaveritas is possibly my favorite track on this playlist – Ana Tijoux's beautiful voice in harmony with Piña's, both sitting on top of a classic latin groove combined with a haunting melody that doesn't shy away from our mortality – says everything about life and death that the more sanitized Northern countries couldn't dream of.
I'd been introduced to Pedrito Martinez earlier this year – it's the piano on this track that catches my ear – talk about blending styles and genres – you've got this classic Cuban groove with African elements and then they throw a jazz piano solo in there and yet – bizarrely enough – it works – follow that Roberto! ;-p
Cumbia sobre el río / Interludio – Celso Piña
Wow Andrew, I knew you had that rhythm in you. Great track from the Pedrito Martinez Group. Love the piano solo with spanish/arabesque influences. I can't yet figure if it is from the Zarzuela "La boda de Luis Alonso" or from a Paso Doble, but it sounds amazing.
And now, "The accordion rebel keeps on riding triumphant into the new millennium: Celso Piña y su ronda Bogotá". From the hills of Monterrey, México and its poor "barrios" comes the great, self taught Celso Piña. Unfortunately no longer among us, he left us with his take on colombian cumbia, a very popular rhythm in the northern city and thanks to him, in all of México. Cumbia sobre el río (a collab with Mexican hip-hop group Control Machete) transports us to to Monterrey and makes us dance!
Ladeira Da Preguiça – Elis Regina
I'm writing this months after we put the list together – yet even now I remember the almost hypnotic feel of Celso Piña's accordion driven groove – to learn that this was blended with Control Machete makes so much sense. I want to go to Monterey – to go to Monterey and Dance!
So what do you do when the groove is chugging along and you've just got your dancing feet on – well – you up the energy. Keeping the Latin feel but dropping down South – we're now deep in São Paulo – the tempo's up and we're stepping out to the Brazilian hurricane that was Elis Regina. What a voice – what a groove – what a performance…
Serenade – Paquito D'Rivera
This might as well be an uphill slope, but I find no laziness in this Gilberto Gil masterpiece! Beautiful bossa nova rhythms with hints of samba, makes you want to get up and dance. Ellis Regina interpretation brings a lot of energy and a beautiful voice to this tune. Brazilian music is always great, always welcome: Thank you Andrew! (And please, let that poor puppy loose, no need to tie him down with sausage!!!)
Ah Paquito D' Rivera, what an artist, and the way he works with music virtuosos, just wonderful. I had the opportunity to see and listen to him perform with the Jazz at Lincoln Center Orchestra while on tour in México: It was magic! (They were also joined by Edmar Castaneda, a great colombian harpist). Paquito's Panamericana Suite is a magical ensemble of talented musicians bringing us an equally interesting mix of rhythms. In "Serenade" we can enjoy the virtuosity of this great group of artists, again in an ecclectic mix of sounds: From classical, to jazz, and ending up in a powerful "descarga". Enjoy, and why not, dance!
Soy Gitano – En Directo En El Festival De Jazz De Montreux / 1991 – Camaron De La Isla
Crazy that this playlist took the best part of a year to make – but what fun it was to put together and indeed write about. I am always – (and yet not!) – surprised by how music can connect people – this idea of making a playlist together – swapping tracks – listening to your creative partner's choices and seeing how they connect with yours – it's such a wonderful experience and I'm so glad that we've created a culture where it is a normal thing to do.
Roberto and I couldn't begin to come with a title for the list until it was done and we had listened to it in full – I am of course writing this last track write up once everything is in place – but as we listen back, there is such an unavoidable Latin groove to it – and sure, not every track – Roberto's Queen ballad proves the exception to the rule – but as a whole it fits both our models of what "Latin" means.
I couldn't resist finishing with an upbeat, physically demanding and just bloody joyous track from José Monge Cruz – for the life of me I couldn't tell you where I heard it – possibly from making lists with Abdallah or Juan, could've been Maria or Liv – who knows – what I do know is that it kicks ass and makes me feel good when I listen. I've been lucky enough to participate in a Flamenco show in the caves in Granada and I've seen the shows in Madrid but this performance from the 1991 Montreux festival, bleeds passion. And while I could write a whole other essay on passion, what it is to me and how it's been abused and its relation to the Latin soul – well – maybe another time.
What I will say is there's something about passion and the Latin soul that go well together – that feels right (to me at least,) that makes sense, to all sides of the spectrum. That I got to make a playlist with my friend from another country, another culture and we came up with this – well – it feeds my optimistic soul.
Thank You Roberto, next?…
Roberto is a retailer working in a family business that has been around for almost 60 years now (The business, not Roberto).  With dreams of flying airplanes and playing drums,  and a few excursions into politics, he enjoys music as much as the next guy!    He is a firm believer that music can summon our thoughts and feelings, and thus, the right piece at the right moment can make miracles happen.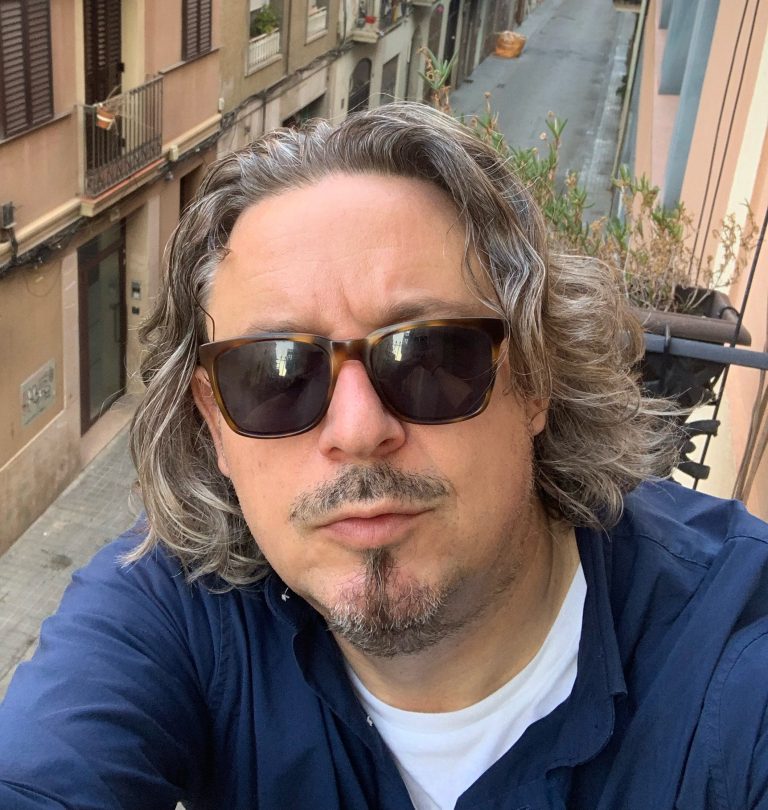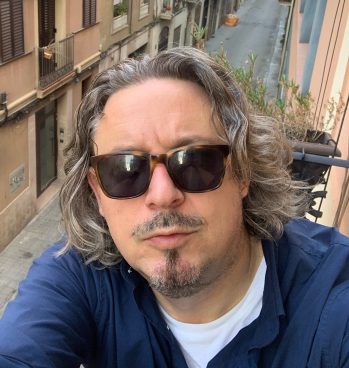 Mastodon