22 September 2021
About this playlist
French Girl Nigerian Boy
The French girl releases her legs from the Nigerian boy's hips. The hem of her black mini-skirt slides down her thighs as her suede ankle boots graze the floor of the passenger train's toilet. He tosses the condom into the metal bin and pulls up his zipper. Breathless, eyes glossy and sparkling, they embrace. He rests his forehead against hers. She smiles.
"Did we just join the loose caboose club?"
"I'm pretty sure it's mile long," he chuckles. As the exertion—not the passion—fades from his breath, he kisses her. Their lips linger. "What now?"
"Your name would be a start."
He steps back with a laugh and places his right hand on his chest. "I'm Ibrahim."
"Nice to meet you, Ibrahim. I'm Julie. Juju."
—
We met on the overnight train from Naples to Venice. She didn't wait for me to stand. Instead, she fumbled across me to the window seat, fell into my lap and awkwardly apologized in her best Italian. She smelled of wild roses and cedar, seduction and freedom. She would later tell me that was the intended effect of her perfume, according to the advertisement.
We talked for hours. We talked about everything under the sun and the moon, until just before dawn, when she turned toward the window. She stared in silence for a few seconds that seemed to stretch for hours, and then turned back to me. "L'heure bleue!" she said, standing and stepping into the aisle. "Do you want to get lost in a moment?"
I did.
—
He wore a black turtleneck and trousers and exuded confidence and strength. My body began to shake. Was it excitement, fear, madness? I felt lost. I was at a loss to move my feet and betray my sudden intoxication. He was so handsome. No, he was beautiful. Maybe I wouldn't have to walk past him. I looked at my ticket and then at the seat numbers and saw that my seat was next to his. I didn't wait for him to stand, couldn't. I was too nervous. I hurried over him when the train jerked and I fell into his lap.
"Mi scusi." My heart raced and my entire body felt flush as he helped me off his lap and into my seat.
He smiled. "No problem."
"You're English?"
"From Nigeria. You?"
"French," I paused and added, "From France." Why did I do that?
"I suspected," he chuckled. "Are you travelling home?"
"No," I said, removing my purse and setting it beside me. "I'm a writer. Digital nomad. I transfer to Zagreb in Venice and then on to Dubrovnik. Huge Game of Thrones fan."
We talked into the night about everything from his newfound spumoni ice-cream addiction and my guilty pleasure for Brazilian soap operas to his love of Afrobeat artists and my fascination with Daniel Nakamura and yé-yé. I didn't want the night to end, but as the darkness gave way to twilight, I realized it would.
I stood and moved over him, less nervously this time, bent down and whispered, "Do you want to get lost in a moment?"
—
Juju and Ibrahim gather their luggage and leave the train in Venice. They put down their bags and stand on the platform unable to take their eyes away from each other, unable to say goodbye. Finally, she moves to kiss him adieu, but before she reaches him, he asks, "Do you want to go on an adventure?"
She did.
—
Follow the rest of Juju and Ibrahim's whirlwind European romance by listening to this playlist:
Strangers on a Train
Confident
Ah bah d'accord
Again
Que Sera
Sere
Sun Is Shining
Ginger
Pleasant
Nasty
Le temps est bon
Fall
Yes/No
Come Meh Way
love nwantiti (ah ah ah)
Je t'aime moi non plus
Boys Are Bad
Partir Ensemble
Nobody
Sur la piste de danse
Fool
Did We Live Too Fast
Slow Down
Va
Sinner
Old Downtown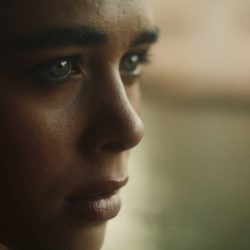 Understand
Homme
LV N ATTN
Vertigo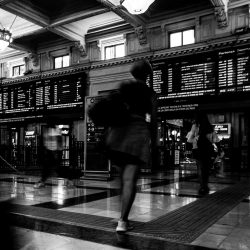 Hopeless Romantic
Still Think of You
Bonus Track: Shadow of a Doubt
Link to the Unsplash image