Retirement was invented to allow people, who were once but no longer good at something, to stop doing that thing they are no longer good at. That creation bore an offspring named Early Retirement, where they may still be good, but there's someone better, cheaper, and/or fresher to take over. 
Why did OutKast retire over 14 years ago? They were so good when they went separate ways, one may argue the best in their generation. They were only three years removed from winning Best Album at the Grammys for Speakerboxxx/The Love Below. Not Best Rap Album, although they won that as well. TWICE. No. Best ALBUM. The FIRST and ONLY rap album to win the top prize. Beating out Justin Timberlake, The White Stripes, and Missy Elliott. If you ask around, the general consensus is that Justified, Elephant. and Under Construction are the best albums from those three, respectively. Conversely, Speakerboxxx/The Love Below is the WORST OutKast album (Idlewild is probably the popular pick for worst, but would you rather spend one hour skipping tracks or two?)
Why did OutKast retire over 14 years ago? They were so good when they went separate ways, people who should be trusted still put Andre Benjamin aka Andre 3000 in their top 10 for best rappers of all time. When they retired, he wasn't even the best rapper in his own group. Antwan Patton aka Big Boi lays claim to that title. 
It's beginning to look a lot like, what?
My first introduction to OutKast was the Players Ball music video. I was sold. Southern pimps? I'll take your word for it. It was the first time I heard East Coast lyricism mixed with West Coast funk delivered with a Southern drawl and sensibility that put me shotgun in a Cadillac Fleetwood. When they dropped their 2nd (and my favorite) album 25 years ago, ATLiens, we confirmed it was not a fluke. I memorized every track. Got stopped at the mall the other day, heard a call from the other way… I studied the phrasing. The vivid storytelling. They were unicorns in the rap game. They would prefer the term aliens. Move over A Tribe Called Quest, I officially had a new favorite rap duo. Forever pimpin'. Never slippin'. That's how it is.
What worries me about the legacy of OutKast is that Grammy. Their biggest wasn't their best. Every wedding DJ has played "Hey Ya", "I Like The Way You Move", and "So Fresh So Clean" so much that grandparents and kids are the ones that jump to the dance floor first. "Ms. Jackson" taught the suburbs "for ever, for ever ever, for ever ever?" But if you think that's ALL 3 Stacks and Big Boi had to offer, you've made the best decision possible in reading this. What you're about to be exposed to, are 15 tracks that will give you a clear, if not fervent, appreciation for arguably the greatest hip hop duo of all time (no disrespect to the Kings of Rock, Run-DMC).
---
HOOTIE HOO
Just a bass line, simple drums and Big Boi and Andre spittin'. From their debut album, Southernplayalisticadillacmuzik, you can hear these teenagers at their rawest and hungriest. The Dungeon basement, where they recorded this album, is now a hip hop landmark. Tracks like "Hootie Hoo" sound like they could've only happened in a basement. Tight like hallways, smoked out always.
PLAYER'S BALL
This song is the world's first glimpse of this dynamic duo from Atlanta. This song first came out on a Christmas compilation for Laface Records, owned by L.A. Reid and Babyface. The record shows their natural chemistry with Big Boi and Andre rapping back and forth with slick player rhyming, packed with that southern flavor that showed truly the south got something to say.
MAINSTREAM
On their second album (ATLiens) they took a deeper approach to the music and this track is a shining example of that. A spoken word intro from Big Rube that sets the tone for the deep lyricism provided by the pair. They showed their awareness of the world, as you can hear the intent of giving the world more shine on this chill, soulful production.
CRUMBLIN' ERB
Off their debut album Southernplayalisticadillacmuzik; it has a chill feel, good production that does wonders for the soul, all while you get to enjoy their rhyming to the fullest. Andre sets the tone with the first verse, with so much relatable truth to the youth, to make it timeless. Big Boi carries the track three verses to Dre's two, add a golden hook from Sleepy Brown to make this an all time favorite.
E.T.
OutKast lost some fans when they released ATLiens. They wanted more of the Southern Playa rap of their first album. Their loss, they overlooked one of the best hip hop albums ever made. "E.T. (Extraterrestrial)" appears in the middle of the album, almost as an interlude. Minimalist. Stripped down. No drums, the rhythm is nothing but breathing. This is a kinder, gentler OutKast, vulnerable and out of this world. Don't concentrate on knocking other niggas out the box. Why? Cause in a sense, seems we all be kinda fly. Kumbaya…
MAMACITA
An album cut from arguably their best project Aquemini; they give you a posse cut from the Dungeon Family. Each verse is packed with charisma that sells the rhyming, but more you get storytelling in each verse that you are able to enjoy more with each listen.
BABYLON
Any song that starts with an admission of being a crack baby demands your attention. This is my favorite rap track off my favorite OutKast album (ATLiens). Soulful, introspective, personal, and dense with quotables. Only aliens can rap like this. I'ma stop writing so you can start listening.
RETURN OF THE "G"
I moved to Atlanta from Los Angeles in 1999, and Aquemeni was still rotating heavily in aftermarket car systems. "Return of the G" was a favorite, an "allow me to reintroduce myself" track. They went alien mode with their last album, and Dre was becoming a paparazzi target for his flamboyance and relationship with Erykah Badu. This is a kind reminder that Andre and of course Big Boi are still those dudes from the SWAT (Southwest Atlanta). Strictly for the Caddy lovers.
THE ART OF STORYTELLING, PT. 4
The art of storytelling. Slick Rick, Notorious BIG, Eminem, Ghostface Killah and Andre 3000. My top five hip hop storytellers. Being self aware of their gift, OutKast have four songs with this self-descriptive title. This selection is actually part of a DJ Drama Gangsta Grillz mixtape. If you don't know the history and significance of Gangsta Grillz, look no further than Tyler, The Creator's latest album, a homage to (and featuring) Drama and the mixtape era. This track is vintage OutKast: Andre's top tier lyricism and vivid narrative, Big Boi's tough talk and smooth flow, and a sing-along chorus from Floetry's Marsha Ambrosius. Ain't nobody doing it like we do.
B.O.B. – BOMBS OVER BAGHDAD
One of the most "favorited" records off Stankonia. You hear a high octane production from Andre (now Andre 3000), that builds well throughout, to an ultimate climax that leaves you stuck. The big sound can make you forget how intricate the verses are, with lines like: Get back home, things are wrong, well not really, it was bad all along or Big Boi discussing having a break baby with lines like: Should've hit it, quit it, rag-top
SNAPPIN' & TRAPPIN'
The special thing about this song is that it's the world's first listen of Killer Mike. A record feature for him, off their Grammy award winning album, Stankonia. He wastes no time laying into the track with hard lines like I drill yo heifer like Black N Decker, the p**sy wrecker, all of which make this an engaging listen, as well as a commanding debut.
SHE LIVES IN MY LAP
Off the double album Speakerboxxxxx/The Love Below, it's one of the most creative tracks in the OutKast catalog. It's a solo 3 Stacks record with him taking a vocal approach like Prince (think "If I Was Your Girlfriend"). An intense love song that has a touch of darkness to it, makes you get lost in the music with samples from Geto Boys "Mind Playing Tricks On Me" and Rosario Dawson adding voice samples throughout.
IN YOUR DREAMS
I know, we talked about this. Idlewild wasn't great. And, this song is an absolute beast. Sometimes the part is greater than the sum. Speaking of parts, no 3 Stacks on this one, but Big Boi brings in a pre-Run The Jewels Killer Mike to share master of ceremonies. Oh yeah. And Janelle Monae. An overlooked deep cut that should've been bigger.
STANKONIA (STANKLOVE)
A continuation of the more R&B than rap, funky, longer tracks OutKast was starting to trademark. This one is for the grown folks, stanklove is what you think it is. If you never experienced a humid Atlanta night with no A/C, vibing with your significant other, this is pretty much it. Just when you think it's over, there's another minute of outro. Those Atlanta nights keep going and going…
LIBERATION

Now if OutKast sang more like they did on this track off Aquemeni and less like they did in later albums (*ahem* "Hey Ya!"?), maybe they'd still be making music. Ready for a hot take? "Liberation" is the best song made in the past 25 years. The ultimate vibe song before vibing was a thing. Complex musically, vocally and lyrically. Gospel, jazz, hip hop, blues all rolled into one almost 9 minute song. As perfect as a song can get.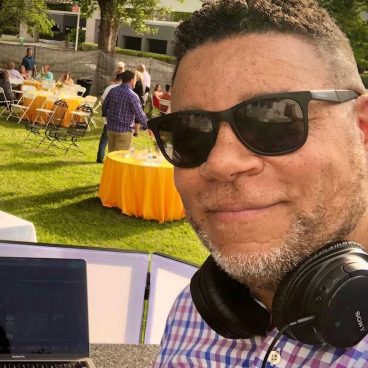 Ben Young lives a life of polarity. He has split his life between the coasts: half his life on the West (California) and half on the East (Georgia and Virginia). He has pursued careers in the art world (film school graduate) and the corporate world (executive with Fortune 500 companies). And he is Biracial, the personification of being two things at once. Ben's musical influences were formed by music loving parents, raised in a world of John Coltrane and John Lennon, James Taylor and James Ingram, Huey Lewis and the News and Prince and the Revolution. Saxophones, electric guitars, synthesizers, and breakbeats filled the air Ben breathed from birth. And being born one year after the birth of Hip Hop, Ben has been joined at the hip with the genre his entire life.
Rich Parrott IV is the CEO of Global Money World. A multi genre platform that covers multiple genres through blog posts, interviews, magazines, and Spotify playlists. He first started as an artist, and through his journey of artistry he decided to start his own platform to help cover more artists, to push the culture forward.