Molly writes:
If I had a million bucks for every time I said, "Never will I ever (insert topic du jour here).", I would be a multimillionaire. Damn! One of my most famous never will I ever statements involved country music. Uh uh, no way, no how. I'm not listening to that broken down truck, beer can swilling, achy breaky heart malarky.
Well, well, well, look at me now. If you travel in my Jeep with me, you'd see that Go Country 105 has earned a coveted place on the preset radio stations. And darned if that station isn't on more often than not and double darn if now I know over half the songs they play and you bet I sing along.
When Andrew asked me to do a playlist with him, the first thing out of my mouth was, "Let's do a country one and call it Mothertrucker!" I had an absolute blast doing this playlist. I came out with Chris Stapleton's "Starting Over" and Andrew volleyed back with the perfect, "Chip Of A Star " by Chatham County Line. And so it continued with the songs I have grown to love. Many of them I would hear on vacation in Palm Desert as my husband's shocking love affair with country music happened right before my eyes. I kept having to get out of the pool and Shazam songs that tore at my achy breaky ol' heart. Then Yellowstone came into my life and those familiar songs that I heard on hot desert nights were replayed on the screen in the breathtaking Montana countryside
I wish that I had Andrew's depth of music theory and could explain in genius terms how one song seamlessly linked to another as we went along, but I can't. All the songs I chose, I chose because I feel them in my soul, they make me happy, they make me wistful, they make me sad, they elicit an exact memory and moment in time that I will never forget. Thanks to Andrew I have new songs to add to my memories. And right as rain, this Mothertrucker is listening to them in her Jeep.
Andrew writes:
Growing up in the UK you don't really "Get" Country Music. Sure, my generation knew of Dolly Parton, Johnny Cash or even Kenny Rogers, but really to us it was more about hats and boots, boots, lots of boots and perhaps, Texas! But that changed at the turn of the century, Country music became one of the biggest genres on the planet – Shania Twain was huge and indeed produced by Mutt Lange who'd come off huge successes with AC/DC and Def Leppard. There was Garth Brooks, Tim McGraw, Brooks & Dunn – basically if someone could sing, they'd stick a hat on him and boom – superstar! Nashville was once again the home of American music and the mill started churning out hit after hit until of course the inevitable backlash.
By the time I got the gig of musical director on an independent Country project in '05 I was kinda suspicious of the genre – but when my homework was to go listen to the back catalogs of Patsy Cline, Merle Haggard, Johnny Cash and others – everything started to change. While the music started to grow on me it was the stories that really began to resonate, the true underbelly of America – long before it got turned into a car or beer commercial – I'm not necessarily a big Willie Nelson fan but damn if that man can't sing the truth!
If you think about it, there's plenty of instrumental rock music, of EDM and instrumental Hip Hop is exploding – but you don't really hear that much instrumental Country do you? When you look at Country music and Nashville as its center – they have the best musicians, the best singers, the best songwriters, but ultimately – if the song is going to be a hit outside of the bubble – it's the story that's going to take it there. And that's where I focused when making this list with Molly – the transitions are less about the music than they are about, you know, the truth that's coming from that particular artist.
My favorite track on the list is Heaven. I'd not heard Brandi Carlile's version before, and it's just brilliant. Brilliant. I remember it was a humongous hit for Brian Adams back in '84, and if you go look at the official video, it's literally the classic eighties story of "I am a white dude and I'm going to shag all the chicks but really I'm going to fall in love with this special one and she's like, oh, kind of cool but not really interested and he's not going to give up and you just know that he's going to hunt her down in the end." And then you go look at the lyrics and they're like: "I am man. I can have anything I want – regardless of what you want because, Oooogah – I am Man and I know what's right for you!" and when you take a step back, placed against the #metoo cultural shift – it just feels a bit icky.
But now go listen to Brandi's version and everything changes.
She takes the exact same lyric, the same melody and turns it into something completely different. And sure, context is everything, if this was her original track it wouldn't hit so hard without the comparison to the original, but wow was she able to tell a different story. I wonder if you played both versions to a teenager who'd never heard either, which one they would prefer – I guess that would be the acid test.
And that's the magical thing about great songs, they can transcend genres, transcend generations, even change meaning, all dependent upon who's singing and how they perform. To be able to take a classic rock song and turn it on its head – well – that's some bad ass mothertruckery!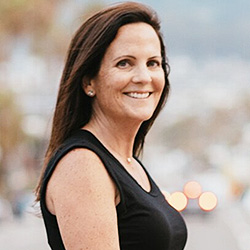 I was born and raised in Southern California. My first musical memories were listening to Donna Summers records in my living room on repeat and plunking out Heart and Soul on our untuned piano. Flash forward to the age of iPods where my friends and I would create massive playlists for every occasion in our carefree lives. I still treasure these playlists and always have a big smile when I hear them. After a long career of teaching elementary school I took a hiatus to raise my family and now work as a digital marketer, which led me to my friendship with Andrew who became my valued mentor. I have a great love of music simply because it moves my soul. If you're looking for help with your digital presence - you can learn more about my marketing business here. Happy listening!