Track Listing:
Scar – Dance With the Dead
American Guilt – Unknown Mortal Orchestra
Chainsaw – Losers
Modifier – Robert Walter's 20th Congress
beanz – Kasabian
Graveyard Chamber – Gravediggaz
Living Hell – Misfits
Fuck Armageddon…This Is Hell – Bad Religion
A Foul Form – Thee Oh Sees
Crookedile – King Gizzard & The Lizard Wizard
Tin Omen – Skinny Puppy
Nervous Breakdown – Black Flag
Battery Acid – Queens of the Stone Age
More Human Than Human – White Zombie
March Of The Pigs – Nine Inch Nails
Hex – Dance With the Dead
We Gotta Get Out of This Place – Fear
Speak Of The Devil – Misfits
Blackmagic – T.S.O.L.
Death Magick for Adepts – Cradle Of Filth
Now I'm Feeling Zombiefied – Alien Sex Fiend
Gargoyles Over Copenhagen – Nekromantix
Sacrifice – Thee Oh Sees
Mate Spawn And Die – Lard
AmEN! (feat. Lil Uzi Vert and Daryl Palumbo of Glassjaw) – Bring Me The Horizon
Bite It You Scum – GG Allin
Ignite – The Damned
Fascist Pig – Suicidal Tendencies
Slip It In – Black Flag
Playlist image by Leyre on Unsplash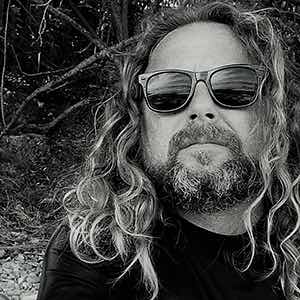 Drawn to music from an early age, Chris' first album was The Beach Boys - Good Vibrations, a record he'd spent weeks saving up his pocket money for. Now after many years of second hand vinyl markets and countless concerts and festivals, Chris a painter and decorator by day, continues to chase the dragon for that next cool music discovery. Raised in Brisbane and now operating out of Noosa on Australia's sunshine coast, you can learn more about Chris at
https://www.noosadecorating.com/
Musician/Teacher/Songwriter/Producer/Music Collector. Matt McCalpin lives a life committed to music. He was born with a guitar in his lap, and soul in his heart. A funkified odyssey that began with an accomplished education from Musicians Institute in Los Angeles, has refined into a relentless amount of music created, stages played, students taught, and friendships formed. Currently Matt lives in Michigan with his wife, kids, and pup. When not spending time with his family, he is avidly collecting music, performing, recording, and producing the funk band Medicinal Groove. "Music is the best!"