---
Every now and then I will keep hearing a track over and over no matter where I got and not realize how much of a gem it is. This next track falls in that category for me.
Derez Deshon is from Clayton County, GA so pretty much Atlanta. He is one of the artist I kept hearing about doing business in Atlanta myself. One day I asked an artist/friend I work with who they are listening to currently and he mentioned Derez Deshon. So I started to research him and found out he is currently a member of Rich Gang/Cash Money Records and being guided by Baby aka Birdman. He just released a mixtape with DJ Drama called "Pain" and still very hard on his grind.
This track "Hardaway" helps tell how it is day to day in the south for a lot of hip hop artist. What really made me want to add this to my list was a video I found with him breaking the lyrics down and explaining why he chose to say what he said. I think this guy has a lot to offer to the game and I hope you guys can enjoy this as much as me.
Follow us on social:
---
You can learn more about Derez Deshon here:
---
About the Curator: Adrian "Science" Robinson
Adrian "Science" Robinson is a producer, audio engineer, & artist manager who has a love for music that stems from a family long history of singing and dancing. He attended the Art Institute of Fort Lauderdale, Florida for music & video production, and later worked very close with one of Florida's major independent record labels. He has lots of fond memories old and new that seems to tie in with many songs, and loves to share them with others. After working with multiple recording studios, independent labels, & internet radio stations, he moved on to publishing music for independent artist in the independent music community.
Twitter: @TrueScience772
IG: @TrueScience772
31 July 2018
When I'm going through and listening to music to put on my list I do it all based on emotions and flavor. I believe all music has a certain flavor, and my particular flavor is very southern. So I find my self being really drawn to what I feel is some of the hottest major and indie southern flavor around…
24 July 2018
So I had a few issues in my private life and with my computer over the last few weeks. And I wanted to just share my thoughts on energy, and how it can effect us in life. I will say this and I hope it helps anyone going through a rough time anywhere in life. LIVE YOUR BEST LIFE!…
4 July 2018
Ok so I was sitting listening to tracks and reading a few of my music sites that I keep up with. And I came across something where one of the older rappers had some not so good things to say about one of the new guys in the game…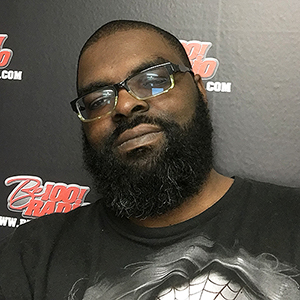 Adrian "Science" Robinson is a producer, audio engineer, & artist manager who has a love for music that stems from a family long history of singing and dancing. He attended the Art Institute of Fort Lauderdale, Florida for music & video production, and later worked very close with one of Florida's major independent record labels. He has lots of fond memories old and new that seems to tie in with many songs, and loves to share them with others. After working with multiple recording studios, independent labels, & internet radio stations, he moved on to publishing music for independent artist in the independent music community. Twitter:
@TrueScience772
IG:
@TrueScience772